Welcome!
Thank you for visiting the Bioethics Network of Ohio website.
BENO is a statewide association of health care professionals, chaplains, attorneys, and academics all of whom have an active interest in ethics issues concerning medicine, patient care, policy, and law.
If you stopped in just to browse, our resource links will take you to a number of sites that have been useful to our members.
Please come again soon!
Best Wishes,
BENO Board of Trustees
BENO is Unique
We are the only statewide organization serving Ohio as an educational resource in health care ethics. If you share this interest, we invite you to become a member and...
Network with experienced ethicists statewide.
Earn continuing education credit.
Participate in our projects.
Better serve your organization and community.
Polish skills and learn new ones.
BENO provides a unique opportunity for continuing education and networking with colleagues across the State. If you are not already a member, we welcome you to join. Click on the "Membership" link for details and membership forms or go directly to the forms with the links below.
NEW Educational Program
THE BENO ETHICS CONSULTATION COURSE: Developing and Enhancing Proficiencies for Ethics Consultation
BENO is offering a year-long course to members of ethics committees and others who seek to gain basic knowledge and skills in ethics consultation. Participants will receive 16 hours of classroom teaching, supplemented by readings and projects, and mentoring throughout the year by experienced ethics consultants.
Charitable Contributions
Under law, your contribution to BENO, (a qualified 501(c)(3)) organization, is considered tax deductible. We appreciate all contributions to help further our educational efforts. Contributions can be made by check or here on the website—a receipt is available upon request.
Don't Miss This Important Program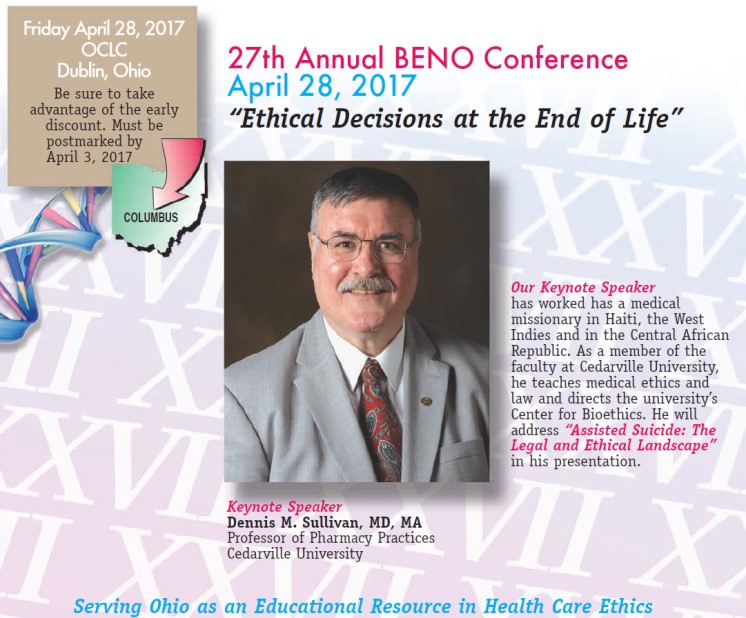 Dear BENO Members and Friends,
I am excited to share with you the outstanding program planned for our 27th Annual Conference. The theme of this conference is "Ethical Decisions at the End of Life". The next page has summaries of the topics you can choose from. Among the topics covered – the result of collaboration between the planning committee and the Board - are: physician – assisted suicide, palliative sedation, ethical issues in pediatrics and the NICU, conscience rights for caregivers, family communication and Ohio legal update.
Be sure to share this program with your graduate students, interns, residents, fellows and colleagues. There will be time to "network" during the luncheon and throughout the day at the various breakout sessions.
Although it's possible to register for the conference by mailing a check, I urge you to use a credit card and register online at www.BenoEthics.org.(Remember to REGISTER EARLY!) If you haven't renewed your membership or joined BENO yet, there is still time for you and/or your institution to become a member and SAVE on conference fees. Information on membership options is available on the website.
Knowing the benefits of BENO's ongoing educational mission,please join us on Friday, April 28th at OCLC in Columbus.
Robert M. Taylor, MD, FAAN, FAAHPM,The OSU Wexner Medical Center
President, BENO